How to Wear Contact Lenses
Wearing Contact Lenses for the First Time
Trying contact lenses for the first time might seem a little scary.  However, contact lenses can be a comfortable alternative to glasses, and with practice, putting them on and off is quick and easy. A text guide detailing how to insert and remove lenses can be found here. Alternatively, this short 3 minute video will give you the basics of how to put contact lenses on your eye and take them out again.
When being fit for contact lenses at OC Eye Care, you will meet with either Dr. Sky Schroeder, Whitney Head-Burgess, or John Watson for an appointment wherein they will teach you proper insertion and removal of your contact lenses, as well as how to care for you lenses, and outline a wear schedule for you.
More information regarding contact lenses can be found here.
Useful Information About Wearing Contacts
Is My Contact Lens Inside Out?
Many new wearers wonder how to tell if their contact lens is inside out.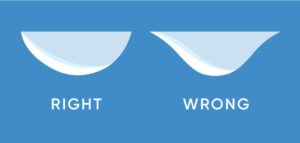 The difference between a right-side out and a wrong side out lens can be subtle.  But the trick is to look at your lens and make sure the lens looks like a half circle rather than looking like it has a beveled edge.  See the picture to the right for an illustration.
Place the lens on your finger so that a cup is formed by the lens; then, holding the lens directly in your line of sight look at the edges. If the lens forms a "U" with the top edges flared out, it's inside out. If it forms just a "U," it's in the correct position.
Some contact lenses also have a laser marking, such as the brand name, on the edge to help you. If you can read it properly, the lens is not inside out.
Don't worry if you place a contact lens in your eye inside out. The lens will feel uncomfortable, but it can't do any damage.